Water-circulating blackhead meter
This blackhead meter is water-circulating. Unlike other blackhead meters, the cleansing colleagues use bubble water to nourish the skin and shrink pores. 3 microcrystalline probes and 3 soft rubber probes can clean more acne and pores. The cross probe can shrink the pores during the cleaning process and make the pores smaller.
Features:

- Featuring a 5-in-1 facial beauty device, that is blackhead remover, skin cleaner, facial inductive therapeutical instrument, wrinkle reducer, repairing instrument, multi-function, and versatile.
- Suitable for different skin types, such as dry skin, oily skin, and normal skin.
- Deeply clean the skin, remove acne and whiteheads, remove makeup and oil, hydrate, and moisturize.
- Three-level adjustment mode to meet different skin needs.

Specifications:
Color: White.
Material: ABS
Rated Voltage: 3.7V
Rated Power: 2W
Battery: 8000mah

Dimensions and Weight:
Product size: 20.00X4.50X4.00cm/7.86X1.77X1.57in.
Product weight: 0.22KG

Package Contents:
1 x Blackhead Removal Machine
6 x Hole Head
1 x USB Cable
Set 1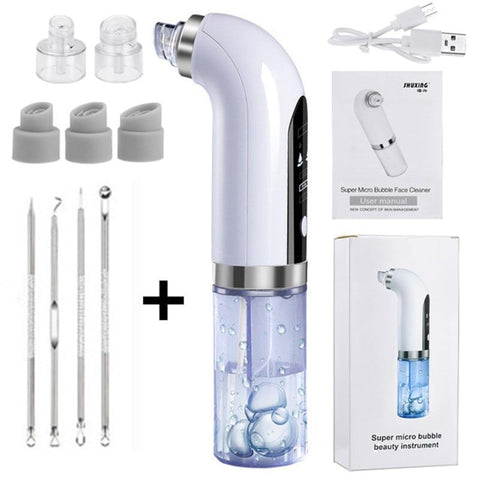 Set 2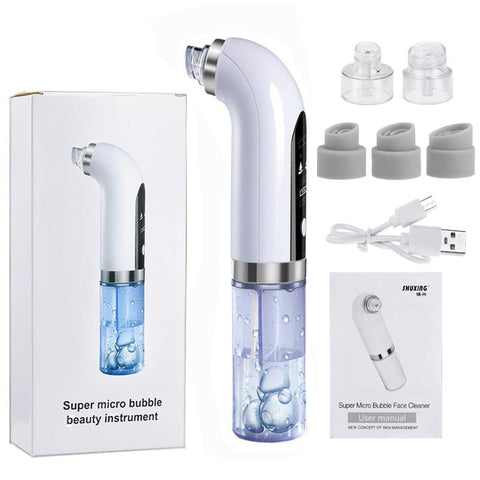 Beauty Tips:
Before using it for the first time, please read the relevant instructions in detail (safety precautions).
Do not shake the product greatly, invert the product or block the exhaust port with your hands during use.
Do not stay in the same place on the skin for a long time, you need to keep sliding and lifting.